Colorado's thrilling overtime victory in Game 4 puts the team just 60 minutes from a Stanley Cup – a tremendous feat for Jared Bednar's team, who have climbed the ladder of hockey excellence.
The Avalanche needs to deliver again in the next three games. But at some point we have to ask ourselves: how good is this Colorado team, and are we underestimating the size of Bednar's club on the ice?
Colorado has generally been a consensus favorite in the betting markets for the past two seasons. The talent and strength of the team is universally recognized — I thought Calgary head coach Darryl Sutter summed up Colorado best, acknowledging that a run against Colorado was a waste of eight days.
That might have been a bit tongue-in-cheek from Sutter, but I don't know if we appreciate the level of dominance this Colorado team is showing.
Consider this year's two Stanley Cup final teams – Colorado and Tampa Bay – in comparison to other cup winners since the 2007-08 season or statistical modern times. Keep in mind that there are a number of teams in this group that we would consider historically great at any point in time. Mike Babcock's Detroit Red Wings and the dynastic Chicago Blackhawks certainly fit that bill.
The table below shows the net goals and expected net goals benefits carried over across each team's postseason: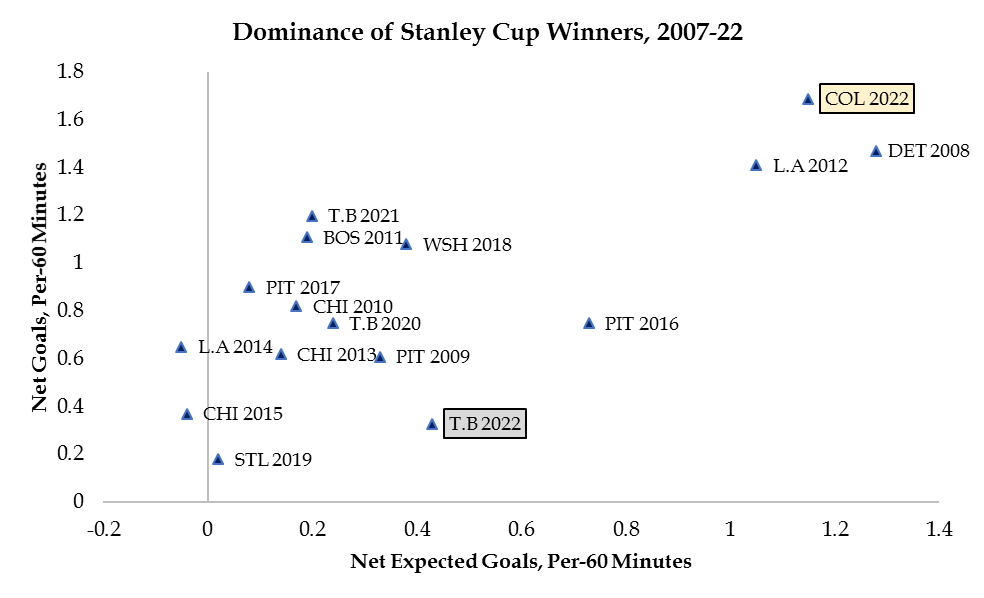 The average Stanley Cup winner was about 0.75 goals better than their opponent over 60 minutes of play, or in other words, they ended the postseason on goal difference of +18. Expected goals are more muted, but that's the trick, so to speak, to being successful in the playoffs – you need territorial dominance and either a sizable goaltender advantage, a team converting a large percentage of their scoring chances, or a combination of the two in a six-week stretch.
From time to time you get performances that go to the extremes. For example, the St. Louis Blues won the 2018-19 Stanley Cup by beating their opponents 75-70 (+5). The team they defeated in the finals, the Boston Bruins, surpassed their opponents as the playoffs progressed 79-51 (+28). St. Louis has been fantastic this year, but they weren't a dominant team in the postseason — more like one that won big by a razor-thin margin.
On the other end of the spectrum, this year has three teams, two to be precise, that are comparable to this year's Avalanche.
Sutter's Los Angeles team was perhaps the pinnacle of possession-dominated hockey in 2011-12 – these Kings battled the limited shooting talent in their lineup with the most underpowered 200-foot hockey we've seen, checking back and forth like crazy and their opponents under pressure put in frequent mistakes. (They also had a great all-time goalkeeping performance Jonathan Schnell.)
The 2007-08 Detroit Red Wings were similarly puck-dominant, but puck-on-stick time was wildly different. Sutter's team wanted to chase the puck and force you to make the mistakes; Babcock's team wanted talented playmakers like Pavel DatsyukNicklas Lidstrom, and Henrik Zetterberg to dismantle the opposition's defense structure.
In a way, this Detroit team is the closest thing to this Colorado team. Nathan MacKinnon is certainly on the shortlist of the league's top goalscorers, a list a player like Datsyuk topped for many years. Lidstrom, considered one of the greatest defenders of all time, has only had a comparable modern era at Ottawa Eric Karlson (2016-17). One may wonder if the 23-year-old is a Colorado Blueliner Kal Makar starts to catch up.
But even that team didn't have the goal difference that this year's Colorado team has. This Avalanche team is going through a dynastic franchise in Tampa Bay that just one season ago put on one of the most impressive playoff runs we've seen.
The Avs are 60 minutes from a bunch of names engraved on the Stanley Cup, yes. But they're also 60 minutes away from perhaps ending the season as the most dominant team we've seen in the era, and that's saying something.
Data via Natural Stat Trick, NHL.com, Evolving Hockey, Hockey Reference
!function(f,b,e,v,n,t,s)
{if(f.fbq)return;n=f.fbq=function(){n.callMethod?
n.callMethod.apply(n,arguments):n.queue.push(arguments)};
if(!f._fbq)f._fbq=n;n.push=n;n.loaded=!0;n.version='2.0′;
n.queue=[];t=b.createElement(e);t.async=!0;
t.src=v;s=b.getElementsByTagName(e)[0];
s.parentNode.insertBefore(t,s)}(window,document,'script',
'
fbq('init', '299109537292123');
fbq('track', 'PageView');