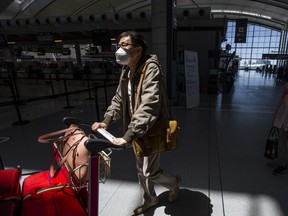 article content
The federal government announced on Tuesday, June 14, that COVID-related travel restrictions in place since October 30, 2021 will be lifted. Specifically, the government is ending the proof of vaccination requirement for domestic travel on planes and trains, for outbound international travel, and ending the vaccine mandate for transportation workers and federal government employees.
article content
The government is maintaining the vaccine requirement for foreigners entering Canada, maintaining the ArriveCan app, and maintaining the mask mandate on planes.
The announcement comes after weeks of mounting pressure on the government to end COVID restrictions from industry, opposition politicians and legal groups. O Canada Airports Council and other industry groups called for an end to passenger vaccine mandates. WestJet CEO called to end of mandates and border restrictions.
Legal groups like the Canadian Constitution Foundation have for months raised concerns about how the policy infringes on Canadians' rights to move freely in and out of their own country.
article content
Conservative MP Melissa Lantsman brought a movement on May 30 to remove COVID restrictions, including random testing and proof of vaccination. The motion was defeated, voted against the government and the NDP. However, two weeks later, the government is basically doing exactly what it voted against.
Has science changed? There is no way of knowing, as the government has never revealed any of the evidence on which these mandates were based. Or how it differed from the science used by all provincial governments in the country that abandoned vaccine passport policies.
Why is science different on an airplane than in a movie theater, gym or stadium? During the press conference announcing the move, Transport Minister Omar Alghabra cited high vaccine rates, lower case rates and lower hospitalization rates. These benchmarks have not changed significantly since the COVID restrictions were renewed just two weeks ago.
article content
But what has changed is the policy. Canadian travel volumes have returned to around 70% of normal volumes, and as the pandemic eases and the summer break begins, that volume is expected to increase. Meanwhile, scenes at many Canadian airports are chaotic and have become an international embarrassment, with viral videos of long lines, hundreds of canceled flights and chaotic baggage scenes.
After sports podcaster Ryan Whitney went viral with his video about being stuck at the airport with multiple canceled flights and long delays, Barstool Sports began marketing a "Pearson Airport Sucks" T-shirt.
This is a politically unsustainable situation for the government. The terms were brought in just before the fall federal elections, in what appeared to be a political wedge issue. The wedge seemed effective at the time, as the policy was popular. An Ipsos survey showed that in August 2021, 82% of Canadians supported requiring proof of vaccination to fly a plane or take an international or interprovincial train.
article content
While there has not been extensive research into the current popularity of travel restrictions, we can assume that the government has conducted its own internal research. Lobbying from industry, opposition, legal groups and the current media coverage of chaotic travel scenes in the media and on social media have created political pressure on the government to overturn the restrictions.
This looks like the perfect bookend. Politics was introduced for political gain, and it only makes sense that it ends when it becomes a political liability.
The problem is that the government made it clear in its announcement that it would not hesitate to bring back restrictions in the fall "if necessary". But the Ministers of Transport, Health and Intergovernmental Affairs were not able to provide clear references to justify this demand.
article content
Most worrisome has been Health Minister Duclos' repeated insistence that there is a need for a "transition" from two doses to three, that the government has considered a three-dose mandate and that a three-dose mandate remains on the table for the fall.
Such a policy would have an unwarranted negative impact on millions of Canadians and their ability to travel or leave their own country and should be rejected. If not, legal groups like the Canadian Constitution Foundation will be prepared to litigate.
Christine Van Geyn is director of litigation at the Canadian Constitution Foundation.