It took two years and a shift of continents, but Rosa Marie Compton was finally able to travel abroad to see firsthand the role of complementary health and integrative health approaches and how they can fit into the holistic goals of occupational therapy.
And not too soon — Compton graduates in May with a doctorate in occupational therapy from Faculty of Health Professions at MUSC. In addition to being among the first MUSC students to resume international travel, she is also part of the first occupational therapy class to earn a doctorate rather than a master's degree.
While COVID has forced some changes on his educational path, Compton said he came out of his travel experience with new insights.
"I feel so lucky to have ended up where I am," she said.
Compton spent 10 weeks in Oaxaca, Mexico, facilitated by Child Family Health International. There, she observed interdisciplinary clinics, met with a recent occupational therapy graduate to compare notes, and followed a local healer, a healer, to observe her work.
Compton first received a travel grant from the MUSC Center for Global Health in early 2020 to travel to India. She had developed an interest in culture in college and felt that mindfulness and meditation practices fit well into the holistic approach to occupational therapy. In fact, in her practical training experiences, she has used mindfulness for pain management, aromatherapy, progressive relaxation, meditation, and even yoga.
The Center for Global Health announced its travel grants on March 1, 2020. Two weeks later, the world has changed. Compton and the other grantees could not travel. In the two years since, travel has slowly started to resume, said Kathleen Ellis, executive director of the Center for Global Health, but students and faculty have had to apply for special travel exceptions, as well as respect entry and exit restrictions. This month alone, all international travel restrictions related to the MUSC pandemic were lifted. Most of this group of 2020 fellows graduated or ended up doing virtual exchanges.
So it was especially exciting for staff members at the center to be able to send Compton with their long-awaited scholarship.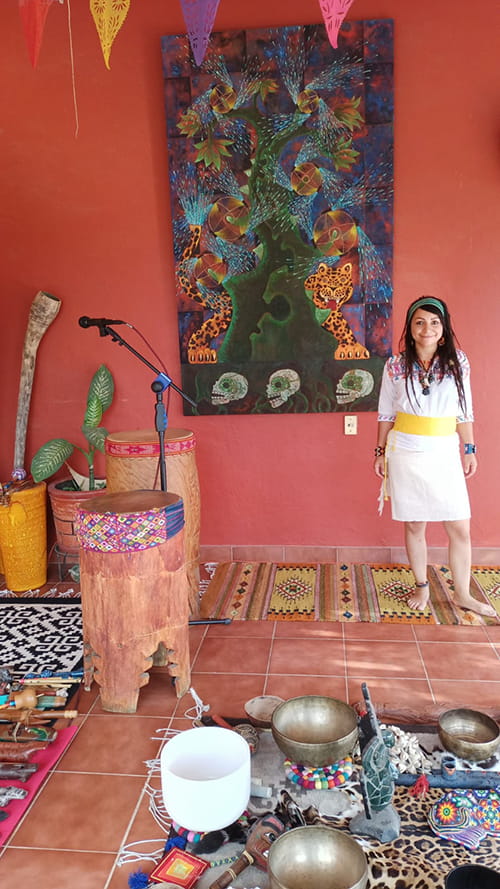 But it wouldn't be for India. India was experiencing a huge spike in COVID cases last fall as preparations for the Compton trip were underway, and her advisers said she would have to adjust her plans. Happily, Children's Family Health International he had some connections with traditional healers in Mexico that could fit into the Compton research project.
Compton wanted to understand how the incorporation of complementary health approaches and integrative health could fit into the Institute for Healthcare Improvement's triple objective of improving the patient experience, reducing healthcare costs, and improving population health. She also thought it could dovetail well with the American Occupational Therapy Association's Vision 2025 to maximize the health, well-being and quality of life of all people, populations and communities through effective solutions that facilitate participation in life. everyday life.
She noted that there has been a massive increase in the number of people in the US seeking alternative health care, but conventional medicine in this country has not embraced alternatives as in many other countries.
In Oaxaca, Compton followed a healer as she traveled to two villages to minister to community members with herbs, cleansers or spiritual cleansings and massages.
Spiritual cleansings involved practices such as rubbing an egg over a person's body and then breaking the egg into a cup to read the patient's energy or emotional state. Such practices didn't necessarily mesh with Compton's science education, but she observed how the healer provided emotional support in villages that had little access to conventional health care.
"The power of the placebo effect is not necessarily a bad thing, and also physical touch is very powerful," she said.
Spending time with the healer and seeing how important she was in the community emphasized to Compton the importance of cultural humility. She also noted that her future patients are likely to engage in some form of alternative medicine, as seven in 10 Hispanic Americans use alternative approaches and three in 10 Americans overall use alternative approaches.
"I sometimes felt conflicted with some of the traditional medicine remedies I was looking at. Gradually, I learned not to let these prejudices and prejudices get in the way of recognizing the valuable contributions of the sabadoras (healers) to their villages."

Rose Marie Compton
It's important for providers to understand other practices and what they mean for patients, she said. In the villages she visited, for example, traditional healers were an integral part of the community and often provided care for people with less access.
Ellis said this first-hand experience is something that simply cannot be replicated by virtual sessions, even if they have opened up the world and forged connections in different ways.
Still, she said, "When you're actually there, you're having to navigate a city or village in a country where you don't speak the language, the health practices are different, the burden of disease is different, the types of treatment may be different. And also having to step back and recognize that there may be things that they do better than us, with a lot less resources."
Having returned to the US, Compton is ready for graduation and looking forward to his next steps. She said she would like to start her career working in inpatient rehabilitation, but her experiences in Oaxaca will continue to shape her.
"Sometimes I felt conflicted with some of the traditional medicine remedies I observed. Gradually, I learned not to let these prejudices and prejudices get in the way of recognizing the valuable contributions that the sabadoras (healers) make to their villages. We are often prone to an all-or-nothing perspective – 'If I don't agree with a part of something, it's all wrong.' With that mindset, we miss the opportunity to appreciate other aspects of a culture that we could really benefit from."
The Center for Global Health is currently accepting applications from students and residents for another round of travel grants.