Trudeau owes Canadians an explanation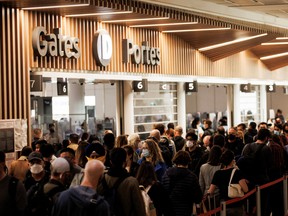 article content
The prime minister, rather than wandering around international summits, needs to answer questions at home, namely: why does the federal government still impose pandemic-era travel restrictions on its own citizens?
article content
Prime Minister Justin Trudeau got a chance to do the right thing last week when the House voted Conservative Representative Melissa Lantsman's opposition motion calling for the immediate reversal of pre-pandemic rules for travel.
Instead, he played divisive politics and the motion was defeated 202-117, with Jagmeet Singh's NDP providing the kind of support predicted when Singh signed up to keep that minority government in office until the next election.
Trudeau owes the Canadians an explanation. He is using what has been a veritable public health crisis – a threat that has significantly diminished in recent months – to continue to play out divisive politics. Leadership has nothing to do with following public opinion polls.
article content
There is no good reason to continue to discriminate against the unvaccinated minority, or to perpetuate the airport chaos that bothers the majority who are vaccinated and want to travel with reason.
Nearly 85 percent of the eligible population in Canada has been fully vaccinated, which is higher than vaccination rates in the US, UK, France, Germany, Australia and New Zealand – countries that have eased or are about to ease, travel restrictions. Unlike Canada, all of the above countries now allow their own unvaccinated citizens to travel in and out of their borders.
In addition to Australia and New Zealand, COVID has hit these countries harder than Canada, where the death per million as of April 26 was 1,023; in France, deaths per million were 2,045; UK, 2,574; and the US, 2,995. Mexico's rate was 2,513.
article content
So why the discrepancy? Instead of showing the leadership one would expect from a prime minister, Trudeau is leaving the heavy lifting to his bureaucrats and ministers.
After the parliamentary vote, it was Transport Minister Omar Alghabra who was put in the awkward position of claiming that his government is still consulting experts and other jurisdictions.
What jurisdictions might these be? Certainly not the provinces, as all have decided that the public health emergency that once justified segregation based on vaccination status is over.
Trudeau and his government need only watch the thousands of vaccinated and unvaccinated and unmasked hockey fans who flocked to Saddledome and Rogers Place for the recent Battle of Alberta to see what provincial governments think of such anachronistic COVID measures.
article content
And he certainly doesn't need to consult the Brits, who loudly and clearly announced to the world over the weekend just how far they've come away from COVID, holding a four-day extravaganza to mark Her Majesty The Queen's Platinum Jubilee.
The fact that it took so long for the Conservative Party of Canada to find its voice on this issue and finally take up the fight against this far-left government is in itself a dereliction of duty.
Where was the libertarian voice fighting the creation of a two-tier society last summer? Ultimately, these will be questions for conservatives to grapple with when choosing a new leader in the coming months.
For now, sensible Canadians should be grateful that, at last, the Opposition appears to be prepared to rise up and at least begin asking the questions of this administration that should have been asked months ago. That is, where is the evidence showing that preventing unvaccinated Canadians from flying is effective in reducing transmission of COVID-19?
article content
Even some liberals do not believe in the policies of their own government. "Nothing about the reassessment of travel-related measures was transparent," Liberal MP Nate Erskine-Smith wrote on Twitter of his decision to abstain from voting on the Conservative motion.
Let us remember that the Canadian Charter of Rights and Freedoms was brought by Prime Minister Pierre Trudeau, father of our current Prime Minister, to enshrine the rights of minorities. He feared that the majority could not be trusted to protect the rights of minorities – rights he fiercely defended. I bet he wasn't imagining that it would be his own son against whom the minority needed such protections.
In Trudeau's "just society", the elder, the "state has nothing to do with the quarters of the nation". Nor does it have business within the private confines of a doctor's office.
article content
It is now clear that the continued imposition of these outdated restrictions is nothing more than punitive on the egos bruised by the truckers' protest. Trudeau owes it to Canadians to fully explain why government travel restrictions and vaccine mandates are being maintained past the expiration date, or to do the right thing and allow Canadians the freedom to travel regardless of vaccination status.
National Mail
Ashley Hughes is a British freelancer based in Vancouver.



Jesse Kline: Liberals Ignore Reality About the Usefulness of Travel Vaccine Mandates




John Ivison: Extending travel restrictions is a sign of a government not listening